| | | |
| --- | --- | --- |
| | Getting the best out of Bible Software: BibleWorks 8 | |
BibleWorks 8 - Guides, tips and treasures.
If you don't know BibleWorks, this will show you what you're missing. If you're already a fan, here are some tips and treasures you may have missed. Version 8 has many new features, and these guides often depend on them.
The new features are here , and the list of what is included is here . Although BibleWorks tries to include everything for a cheap all-in prince ( $350 or £225 ), there's an increasing number of add-on modules plus free extras .
The things which excited me the most were:


new tools for finding allusions
tools for linking Greek & Hebrew meanings
making links with external sources and websites
Installing tips: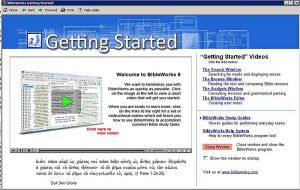 When installing as an upgrade, don't uninstall your old version yet. BW8 has lost the rights to a few resources, including Metzger's valuable commentary on NT variants (see others here ), so you may want to add these resources from the old version after installation, and ask for free installation codes.
Custom Install is a good idea to save you filling your hard drive with things you don't want. You can always add them later. If you choose Custom, go and edit the list of what is being installed. You may want to add maps, training videos, or sound files (ie pronunciations of Greek & Hebrew words).
Getting going tip: Watch the videos - a predictable plot, but informative and not too long.
Layout tips: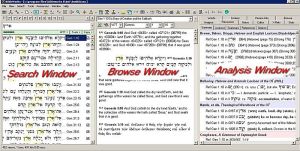 Version 8 keeps the usual 3-panel view for

Search Window - a search box and a list of verses found in a search
Browse Window - a single verse in many versions, OR the context in one version.
Analysis Window - related resources - notes, lexicons, dictionaries etc
Tips for the Search Window (the 1st panel)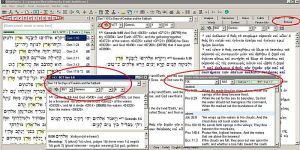 Each tab can hold a search, and arrows on the right step back through searches
Cursor Up+Down steps through verses but Right+Left changes the Browse Window too
Tips for the Browse Window (the 2nd panel)
Click on the "two shoes" icon to toggle between single verse and browsing.
To view two or more verses, click on menu "View", "New Browse Window"
Tips for the Analysis Window (the 3rd panel)
The Cross-Ref tab can open as a new window (open it, right-click, "Open new")
The Browse tab shows the current verse in context, in a version you choose
Tips for the Command Box: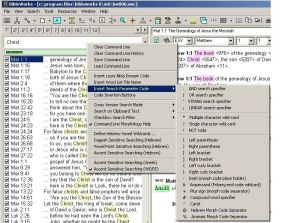 The Command Box at the top of the Search Window is the quickest way to work.
For quick reminders of searching commands: right-click then "Insert Search Parameter"
A quick summary:

Rom.1.10 or Rom 1 10 etc moves the Browse Window to Romans 1.10
.Jesus finds every instance of "Jesus" in the current search version
.Jesus Christ finds every verse containing both "Jesus" and "Christ" in any order
/Jesus Christ finds every verse containing either "Jesus" or "Christ"
'Jesus Christ finds every verse containing the phrase "Jesus Christ"
.Christ* finds every word starting with "Christ", including "Christian"
Which Versions to use:
To pick display versions, click on menu "View", "Choose Display version(s)"
Among the English versions, I recommend Young's Literal - it has horrible English but it's slavish literalness often helps you understand the Greek & Hebrew
Select the non-Biblical texts. They won't show up for Biblical searches.
Include at least one English version with "Codes" (KJV or NAS/NAU) for easy links to Greek & Hebrew
Among the Greek texts, tick BGT & BGM - ie LXX+NT & the morphology version. (Morphology versions are needed for searching grammatical forms, but their codes make it hard to read, so always select the non-morphology version too.
Among the Hebrew, WTT+WTM is the standard Leningrad text (ie the BHS, with corrections).
The Aramaic Targums are all here - wonderful!
Peshitta with Hebrew letters makes the Syriac NT almost legible if you know Hebrew
How to get your versions organised: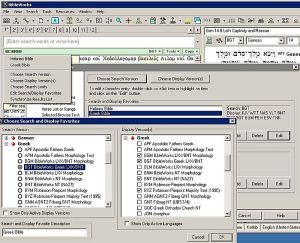 Change their order (menu "View", "Version Display Order"). Put all the Morphological versions at the bottom and your favourites at the top.
Create different collections of search & display versions for different tasks. To do this:

Set up your search version and display versions in the order you want.
click on the wide green toolbar at the top of Search Window and click on "Edit Search/Display Favorites"
Click on "Add", then on "Edit" and change the "Description" from "Display_01" to something more descriptive (eg "Search Greek")
now, when you click on the green toolbar, the new collection is listed at the top.

These lists do NOT have to include Morphology versions (as recommended above) if you follow the next hint for searching.
How to search Greek & Hebrew easily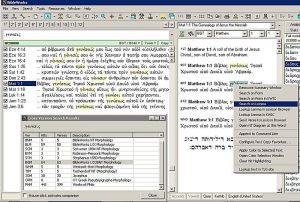 To save you ticking all the versions to search, set your general option to "Search and Display All Same Language Versions" (at menu "Search", "Cross Version Search Mode". From now on, whenever you do a search, it will search all the versions in the language of your search.
To search for all occurrences of the same root as a word in your text, right-click on the Greek or Hebrew word and click on "Lemma"
To see the same list of verses in English, chose an English version as your Search version (click on the version name in the Browse Window) then left-click on the wide green bar at the top of the Search Window, and select "Synchronize Results".
If after searching the versions displayed have been changed, restore the Display Versions you want to see by right-clicking on the green toolbar and picking the collection you have defined (see previous tip).

If you use the Command Box, fix the Search version to Greek BLM or Hebrew WTM. When you start typing, possible matches will be listed. Pick one and press Enter (double-click doesn't work). If you want the root, replace the morphology codes with "@*".

Extra-Biblical Searches in Greek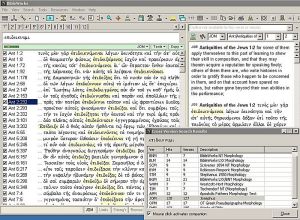 Several Extra-Biblical texts are now available Greek and English (early Apostolic Fathers, Pseudepigrapha, Josephus, Philo) so it is easier to find out how a Greek word was used in real life.
To do this:

Set "Search All Display Versions" (as in the tip above)
right-click on the Greek word and "Search on Lemma"
in Cross Version Search Results, click on the extra-biblical sources at the bottom
to view each result in English, click menu "View", "Choose Display Versions", then untick "Show Only Active" and tick English, APE, JOE, OPE, PHE.

To search TLG (the online collection of all ancient Greek literature), right-click on a Greek word then "Lookup text in TLG site". TLG is a subscription site, unfortunately.
Extra-Biblical Searches in Hebrew+Aramaic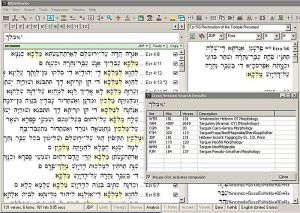 Extra-Biblical material in Hebrew/Aramaic is limited to Aramaic Targums. Perhaps one day BW will have English & Hebrew/Aramaic Rabbinic texts. They have made a start by adding the Mishnah portions of Rokinson's Talmud, but this includes less than half of the full Mishnah and only in English.You can purchase Dead Sea Scrolls in Hebrew for about $80.
Which fonts to use: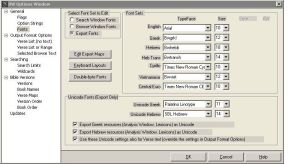 Don't change the default in BW8. Greek and Hebrew is now in Unicode by default when it is exported or copy & pasted. This means you don't need to give the BibleWorks fonts when you send someone a document with Greek or Hebrew. In BW 7 change Export fonts to Unicode.
You need an academic Unicode font such as Cardo to see the accents and breathings properly. I recommend the free Tyndale Unicode Kit which includes font and keyboards for full Biblical Greek & Hebrew.
Find Related Verses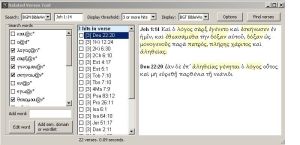 Related Verses (on the menu "Tools", "Analyzing the Text") looks for verses with similar vocabulary in the Bible - a kind of automated cross-reference tool. This finds allusions which haven't been noticed before.
You can even do fuzzy searches in Greek texts by linking each word to their semantic domain.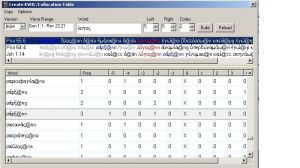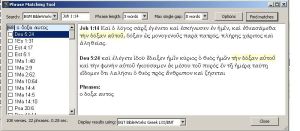 The "Phrase Matching" and KWIC/collation" tools in the same menu look for similar phrases and for vocabulary which commonly occurs alongside a particular word - two other ways to look for allusions or to study similar contexts.
If you run Update, you'll find that you can even search non-Biblical texts for allusions. Within the Phrase Matching window, click on Options and tick "Search all versions in the same language".
Studying Greek Variants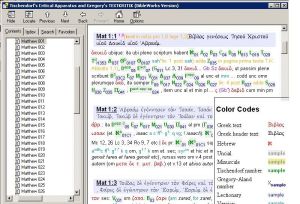 Tischendorf's Critical Apparatus (menu "Resources", "Text Criticism") is a very full list of variants which are colour-coding (see the key in it's Introduction). This isn't as useful as the critical apparatus in SESB - but you can link BW to SESB (see below)
BW has exciting plans for much better features for variants - but we'll have to wait a little longer.
Searching for the same Greek or Hebrew using only English: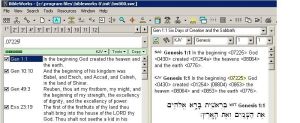 Not everyone is a linguist, and sometimes you just quickly want to find other places where the same root word occurs. To do this:

Click on the version in the Browse Window and select English KJV or NAU - ie one with Codes
Click on Browse Windows Options (top left icon in the Browse Window) and tick "Strongs Numbers"
double-click on the number after the word you want to search for
Link to web pages or documents on your computer:
Ernie (the External Resource Manager (on menu "Resources") is a series of links to important web resources which are files or webpages.
Click on "Add" to link to your favourite sites or to documents on your computer
Link to web databases: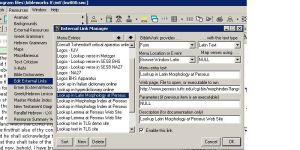 The External Resources (on menu "Resources") are (confusingly) completely separate from those in the External Resource Manager. Instead, they are controlled by "Edit External Links" (also on menu "Resources"). These are web links to databases which can be actively integrated into BibleWorks. Most of these treasures are turned off by default!
Perseus lookups are now much faster, so I recommend you turn these on. To do this:

Click on menu "Resources", "Edit External Links"
Move down to "Lookup" and tick "Enable this link" for all the Perseus resources, and "OK"
You now have extra resources when you right-click on Greek or Latin words in a Browse Window

You can also add your own links. The Help files shows how to add Perseus. Click on menu "Help", "Bible Works Help Contents", "Index", type "External" and click on "External Links Manager".
Link to Logos: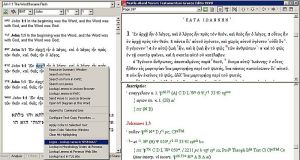 Why do you want Logos and BW? Because BW is so easy to use and Logos has so much.
In particular, the SESB from Logos is a valuable addition to BW (see review here ) It provides the textual apparatus for NT & OT which is mostly missing in BW, and it works well as a standalone, so you don't have to buy a big Logos package. To link it to BW:

Click on menu "Resources", "Edit External Links"
Move down to "Logos" and tick the "SESB" links and "OK"
Right-click on a verse in the Browse Window and "Lookup in SESB"
Compare Hebrew & Greek OT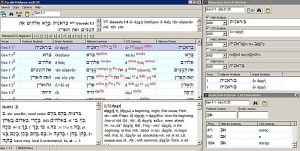 The Parallel Hebrew - LXX (in menu "Resources") is a nice implementation of Tov & Polak's work, linked to lexicons and texts.

"Find Hebrew-LXX Equivalents" (menu "Search" in the Parallel module) is a quick way to see the different ways a Hebrew word is translated to Greek, or the different Hebrew originals behind a Greek word. The results are a bit confusing because computers are dumb - each word in a phrase is listed as a possible translation, so Hebrew ab is linked to Greek ho because it is often translated as ho patér . But this is no problem, because each of these instances is also listed under patér , so just use some common sense.

The search engine is wonderful - you can look for all instances where a Hebrew form is translated by a Greek word or by a particular grammatical form etc. To construct a search easily, highlight a text where an instance occurs then click menu "Search", "Alignment".

You can open as many instances of this tool as you like - esp useful when comparing a few passages.
Diagrams of the Greek NT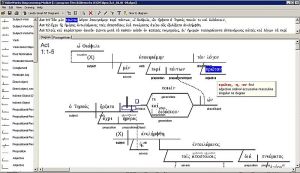 Leedy's diagrams (NT Diagram on the Resources menu) is nicely implemented.

Click on a word and it is highlighted in the text above, and hover for morphology etc
you can turn on/off the descriptive labels, morphology, or even Strongs numbers
the Notes explain the alternative choices which could have been made
each line and word can be edited, if you disagree with Leedy
to get a handy English translation in the text window (below the Greek), click on menu "File", "Load into text window", "from Bible version"
Comparing Translations or Texts: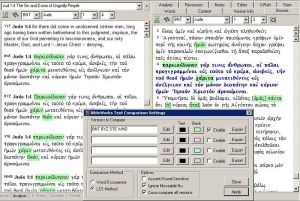 Text comparison is a great way to highlight differences between texts. For example, you might want the difference between Greek editions. To do this:

Click on menu "Tools", "Viewing the Text", "Text Comparison settings"
Click on "Edit" next to an empty box and pick the versions to compare
The "Base Version" is a single text (eg you might pick the Greek BNT, ie the NA text)
The "Comparison Version(s) could be the BYZ Majority Text, the STE 1550 text and others.
Tick "Enable" and click on "Apply" then "Close".
Comparing Several Versions: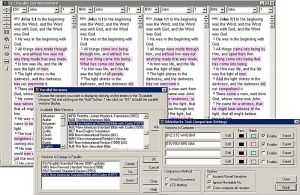 Parallel Versions Window (in menu "Tools", "Viewing the text") is a quick way to compare a passage in lots of versions.
Use "Text Comparison" to highlight differenced (see previous tip).
They stay aligned with each other if you use the arrows at the top left, or you can scroll one individually and then press the "synchronize" button (top button on the left).
Comparing parallel passages: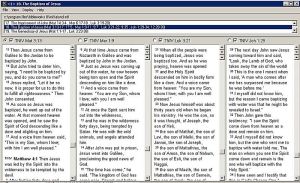 The Synopsis Window (in menu "Tools", "Viewing the Text") is a set of parallel windows ready set up for the four gospels.
The default version is NAU with codes on, and no other version is listed under "Display". To change this:

Click on menu "File", "Edit".
Change "/Versions NAU NAU NAU NAU" to whatever default version you want for each gospel
Change "/Display NAU" to whatever choice of versions you want, eg "/Display NAU ESV TNIV BNT"
Click on menu "File", "Save" and replace the current file, then "File", "Run".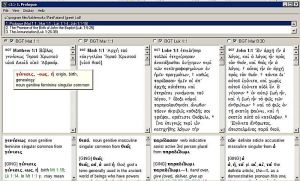 To see Gospels in Greek click on menu "File", "Open", "aland(greek).sdf"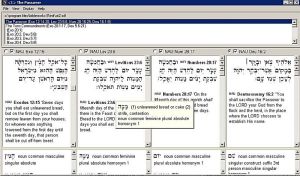 OT parallels and other NT parallels are also available, or you can write your own
To see all your Display versions at once, turn off "Browse" (in menu "View"). Then move down one verse and up again, and you see one verse at a time in all versions.
Customise BW for different tasks: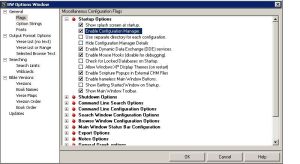 The Configuration Manager saves different setups of versions and layouts which you can choose when you start up. You may have one for scholarly work and one for devotional Bible reading.
Enable this in menu "Tools", "Options", "Startup Options". Now, when you restart Bible Works, it asks for a name of a new configuration, and any changes you make will be saved with that name.
There are LOTS more options you may want to explore.
Creating a Custom Timeline: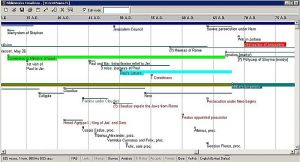 Timeline (in the menu "Resources", "Miscellaneous") is a wonderful overview, and great way to make a quick teaching aid. It is never quite right for what you want. So edit it. Eg (as an exercise to show you how to use most of the features), make a timeline for 1 Corinthians:

In Explorer find the Timeline folder (probably C:\Program Files\BibleWorks8\timeline),
highlight "WORLD.TL", then copy it (Ctrl+C) and paste it (Ctrl+V), and rename the copy (which is probably at the bottom of the list) as "1Corinthians.TL".
In Timelines, click on "Open Timeline" (hover over the icons and their names are on the right) and pick "1Corinthians"
Move to 50 AD
Tick the "Edit mode" mode box and you can change the dates or description of any entry. .
To change text, double-click on it - change "NT Books" to "Paul's letters", with To="68"
To stretch out the scale, double-click on the date line and change "Label axis every" to 5
Remove "Roman Rule" (the long blue line below) by double-clicking on it and marking "Extent Style" as "None"
Click on the "Insert a new Event" icon, and pick the "Roman Rule" era
Make the Caption "1 Corinthians", Range From 55 To 55, Colour red.
Drag it up a little so it is under "Paul's Letters", and drag other things round to tidy them
Click on Save
Click on Copy, "Copy Range" Starting Date = 30, End date = 85, "OK"
Paste it into Word or PowerPoint or whatever you want to use.
Creating a Custom Map: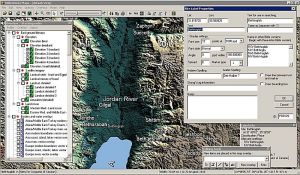 The Maps module (in the "Resources" menu) has so many pre-made layouts that you are likely to find exactly what you need (eg "Places in Genesis", "... in Exodus" ".. in Numbers" etc, "Persian period" etc, as well as all the standard journeys, ministry of Jesus etc).
As you zoom in and out, place names change size and disappear when they get too small, or you can change the text size manually or even add notes which appear when you hover.
There is nothing so impressive as a good-looking map which you have prepared especially for a presentation. And editing these maps is easy - so add a title at least! Here's how:

Click on "Edit overlay" (in the "Mode" menu)
Double-click on a placename and you can edit the wording, size, entry in the search index ("Same as"), "Notes" which appear when the mouse hovers over it, and even put the name on a curve. What you can't do (strangely) is change the colour of the text.
Add a line by clicking on a straight line or curved line on Editing Tools (they appear when you go to Editing Mode)
Constructing complex searches: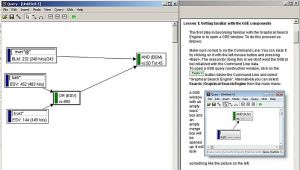 This is where software shines and humans can't keep up. Finding every occurrence where a pair of particular grammatical forms occur can seem daunting, but it often comes down to a fairly straightforward search. BibleWorks lets you construct these searches in two main ways:

1) Graphical Search Engine (on the Search menu) is a relatively easy way to construct complex searches. I suggest you open this, then click on "Help" and go through the lessons.
2) Direct entry on the command line. This seems difficult but actually it is fairly intuitive once you have done a few Graphical Searches. It is a short cut which gets easier fairly quickly.

For example, you may be interested in the origin of the meaning "faith" or "trust" for the group of Greek words pistis , pisteuo etc. One good place to search is in the LXX, and a good place to start would be texts where the LXX uses this group of words and the English translation of the Hebrew includes "faith" or "trust". So, you could look for every Greek word starting with pist in the LXX, which occurred in a verse where the ESV includes the word "trust" or the word "faith". This would take quite some time with concordances, but to do it in BibleWorks:

Click on menu "Search", "Graphical Search Engine". You have a Word and a Merge box open as a starting point.
Drag the Merge box ("AND") to the right side of the box. Double-click on it and set Version = BGM
Double-click on the Word box and select Version = BLM. (Actually we don't need the morphological information this time, but often we do, so get used to opening the 'Morphology' versions.) At "Word", type "

????

?" (ie any word starting with those four greek letters) and at "Morph" type "@?" - ie morphology is anything. OK
click on "Add Word Box" (icon of a "W" in a box) twice. Drag them under the other word box in a line. Their position doesn't matter - it just looks good. Double click on them in turn and set Version = ESV, and Word = "faith?" (ie all words starting with "faith"), and in the other "trust?". OK
click on "Add Merge Box" (icon like "M" in a box) and drag it between "faith" and "trust". Double click on it and change the "Merge" to "OR".
Change the cursor mode by clicking on "Set Word Connect Mode" (icon to the right of one like a cursor arrow). Drag a line from "trust" to "OR" and another from "faith" to "OR". Drag another line from "OR" to "AND".